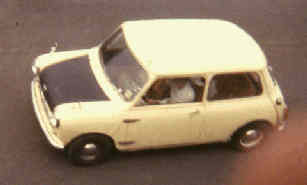 My wife on her way to work in my Mini!


I got this car in 1975 to drive while the OTAS was having new rocker panels put on. The original Mini 850 engine had been swapped with an 1100 cc from an Austin America. The floor had rusted out once and a sheet of metal pop-riveted under it. The speedo was broken, so I never knew what mileage I got, but during the Gas Crisis of 1975 it was impossible to put $3.00 of gas into it's 5 gal tank!

In spite of all it's problems, I still like this car! It packed a ton of fun into 10 feet! With it's nearly horizontal steering wheel you feel like you are driving a Matchbox truck! For all it's tiny exterior dimensions, the car is surprisingly roomy inside!