The 1:18 DeLorean Model
Sunstar 1:18 DeLorean Model - Buy It!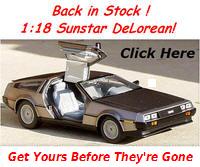 It was another DeLorean Christmas in 2001. I received the Sunstar 1:18 scale DeLorean model, and it is nice! The brushed stainless look is just about perfect. The grain is probably not scale (it's too big), but it looks right and that's what's important!. It looks expensive, but it's fairly reasonably priced. The pieces fit together well. This Sunstar model is Back in Stock at DiecastModelsWholesale!
The detail on this model is excellent. Raising the rear sunshade reveals the engine cover. Lifting that shows the engine, with excellent detail. The DMC label on the air cleaner is prominent. The only things missing from this model are the gas struts and the door pull loops! Excellent detail at a reasonable price! RECOMMENDED !
I also got a display case for it!. There is enough room in the 1:18 scale display case to show the DeLorean model with the doors open. Like my 1:1 scale DeLorean, this one is bound to attract admirers and fingerprints! Although there have been reports in the DML that some models have doors that will not stay open, mine does not have that problem.