I checked for DeLorean trademarks on the US Patent and Trademark web site: http://www.uspto.gov . What I found was quite interesting!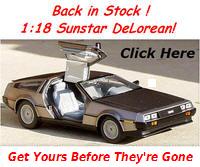 A trademark search (11/2008) for "Delorean" produced seven listings, three are registered trademarks, and five are abandoned.
The logo for the DeLorean Owners Association is an active registered trademark.

The DeLorean Theater is a new (1/2008) filing, apparently for a New York movie theater. It is (11/2008) listed as active.

The "DMC" stylized logo (as used on the grill of the car) is an active registered trademark of The DeLorean Motor Company. It applies to automobiles and structural parts, and to automobile dealerships.

The "Concours Delorean" stylized logo service mark is listed as abandoned. It applied to automobile shows, and was used by DeLorean One

The stylized 'DELOREAN" logo in the characteristic DeLorean font (as used on the hood of my DeLorean) was listed twice, but both are abandoned. It was applied for (11/2000) by "Ephesians 6:12 Incorporated", a Nevada corporation with a business address at a post office box in Bedminster, NJ! The trademark was later (1/2004) registered to DeLorean Motor Company, Houston. In their application is dated Dec 2003, the DeLorean Motor Company claimed the logo for use on magazines, jewelry, watches, clothing, and fitted car covers. The mark was abandoned in December 2005.

In the 11/2000 application, Ephesians 6:12 claimed the trademark for use with cosmetics (perfume and after shave), eyeglasses, clothing, watches, and a litany of automobile categories, both complete cars and parts (from airbags to windows)! The application recognized that DELOREAN is the name of a living person, and that their "consent is of record."

Ephesians 6:12 also filed for the trademark "DeLorean Automobile Company" in September 2004! This makes it reasonable to conclude that Ephesians 6:12, Inc. was created to produce the "New DeLorean."

In case you forgot, or can't find your bible, the text (KJV) of Ephesians 6:12 is:
[6:12] For we wrestle not against flesh and blood, but against principalities, against powers, against the rulers of the darkness of this world, against spiritual wickedness in high [places].
I think John was telling us something!

I recently read in the DeLorean Newslist about a suit filed by "Ecclesiastes 9:10-11-12, Inc." The author of the message asked if that company was set up to produce the new DeLorean. "Ecclesiates" was the new name of Logan Manufacturing Company, manufacturer of snow grooming equipment, also started by DeLorean. The name changed after John sold the assets of Logan. Logan/Ecclesiastes was owned by DeLorean Manufacturing Company. DeLorean Manufacturing was owned by Cristina Corp. John DeLorean was the only shareholder or Cristina! I have no idea where Ephesians 6:12, Inc fits in!
Here's the text of Ecclesiastes 9:10-12:
[9:10] Whatsoever thy hand findeth to do, do [it] with thy might; for [there is] no work, nor device, nor knowledge, nor wisdom, in the grave, whither thou goest.

[9:11] I returned, and saw under the sun, that the race [is] not to the swift, nor the battle to the strong, neither yet bread to the wise, nor yet riches to men of understanding, nor yet favour to men of skill; but time and chance happeneth to them all.

[9:12] For man also knoweth not his time: as the fishes that are taken in an evil net, and as the birds that are caught in the snare; so [are] the sons of men snared in an evil time, when it falleth suddenly upon them.
What do you think John was trying to tell us here?