"Jigawatts! Doc, What the Hell is a Jigawatt?"
Marty McFly to Doc Brown in "Back to the Future"



I got an email recently asking if "jigawatt" was a real term, and what terms were used to describe large numbers of watts. Well, is "jigawatt" real? The answer is "yes" and "no"!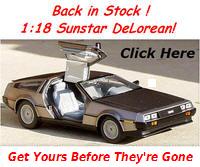 At first I thought, like many fellow scientists, "Surely, Christopher Lloyd is just having fun with us! That's not how you pronounce gigawatt!"
Shortly thereafter, I got a nice laminated sheet from IUPAC with units and prefixes on it. They took special care to point out that giga- (the correct spelling!) was pronounced with the first g as a hard g, and the second, as a soft one! According to my Merriam Webster's Collegiate Dictionary (1993) the first (preferred) pronunciation is " 'ji - ge " (as in jiggle) and the alternative pronunciation is " 'gi - ge " (as in giggle).


OK, so you don't believe me!


But what about this pronouncing dictionary?
Just to add fuel to the fire, fish have gills (as in giggle), but I drink beer by the gill (as in jiggle or jill). A gill is 4 fluid ounces, 118.3 mL in the US and 142.1 mL in the UK.
(Thanks to Keith Oldham for pointing this out to me some years ago!)
Get one of these Sun Star 1:18 die cast Back to the Future Time Machines while they are still in stock!